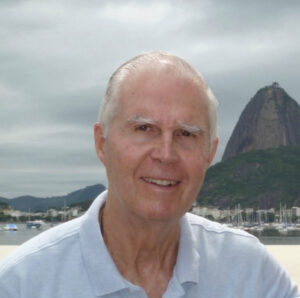 Please click here for the Memorial Service.

Obituary for George Meek
George Duncan Meek (Age 84) Of Arlington, VA, a retired journalist, volunteer, hiker, poet, and author, died December 3, 2020, at Virginia Hospital Center, of Parkinson's Disease and Covid-19.
Raised in New York State, Mr. Meek was a Phi Beta Kappa graduate of Syracuse University, majoring in journalism and Latin American Studies. He studied for a year in Santiago, Chile, with a fellowship from the Inter-American Press Association and the New York Times, and received an M.A. in international affairs from George Washington University.
He worked for 20 years at the General Secretariat of the Organization of American States in Washington as managing editor of Américas magazine, speech writer for Secretary General Galo Plaza of Ecuador, and chief of public affairs. While at the OAS he was president of both the Staff Association and the Credit Union. Fluent in Spanish and Portuguese, Mr. Meek was a translator or supervisor of translators at over 20 OAS conferences.
Mr. Meek retired in 2000 from a 20-year career at the Voice of America, the U.S. government's international radio station, where he wrote the first news and feature programming for the Caribbean. He traveled extensively in that region in the 1980s as VOA's Miami Bureau Chief. His favorite assignment was in Rio de Janeiro, Brazil, as South America correspondent from 1995 to 1999. In retirement, he used interpreting in his volunteer work and translated hundreds of documents for international organizations, donating the income to charity.
Mr. Meek was president of elementary, junior high, and senior high PTAs, president of the Virginia State PTA 1981-1983, and then secretary of the National PTA. He was also state secretary of the National Active and Retired Federal Employees Association (NARFE). He volunteered with the Virginia Division for the Visually Handicapped, Meals on Wheels, Haven of Northern Virginia, Offender Aid and Restoration (OAR), the Good News Jail and Prison Ministry, Volunteer Families (VEFC), the Arlington Free Clinic, Arlingtonians-MeetingEmergency-Needs (AMEN), Arlington Food Assistance Center (AFAC), and the Arlington Partnership for Affordable Housing (APAH).
Active in church work, Mr. Meek was a Presbyterian trustee and elder, taught Sunday school and Vacation Bible School, was youth and clown ministry adviser, and sang in choirs. He was president of the interdenominational Arlington Parish Council. He and his wife Jean were local, regional, and national officers in Mariners, a couples club of the Presbyterian Church. He was clerk of session at Trinity Presbyterian Church in Arlington 2006-2009, and secretary of the church's Mission and Service Ministry.
A long-distance hiker, Mr. Meek was a life member of the Appalachian Trail Conference, the Potomac Appalachian Trail Club, and Florida Trail Association. He section-hiked the entire 2,100-mile Appalachian Trail from Georgia to Maine between 1994 and 2000, and the Florida National Scenic Trail between 2003 and 2011. He wrote poems on both trails, as well as a verse a day for ten years on a wide variety of subjects, and posted all of them for the public on his web site https://
poet.meekconsulting.com
. Mr. Meek wrote two books: Time for Everything: A Six-year Adventure on the Appalachian Trail (Potomac Appalachian Trail Club: 2006), and Manna Calendar: An uplifting poem and scripture verse for every day of any year (Pleasant Word: 2006).
For the last five years, he and Jean enjoyed their senior living condo at The Jefferson, where he also served as Secretary of the HOA. In both his personal and professional life, George will be remembered for his generosity, wisdom, organization, self-discipline, and his faith in Jesus Christ.
In addition to Jean, his wife of 63 years, Mr. Meek is survived by two brothers, James L. Meek (Rita) of New Castle DE and Willis E. Meek (Joyce) of Armonk NY, five children, Deborah A. McEachran (Dan) of Baltimore MD, Steven L. Meek (Marsha) of Myrtle Beach SC, Kevin G. Meek (Catherine) of Arlington VA, Richard W. Meek (Lisa) of Orlando FL and Brian Q. Meek (Nicole) of Ellicott City MD. George and Jean have 14 grandchildren and 3 great grandchildren.
An online memorial service will be held on Saturday January 30, 2021 at 11 a.m. by Trinity Presbyterian Church, Arlington VA (
www.trinityarlington.org/GeorgeMeek
), and will remain accessible for viewing afterwards. Contributions in memory of George D. Meek can be made to
The Michael J. Fox Foundation
for Parkinson's Disease.