Sunrise Service in Person at Trinity
We are very excited to offer two sunrise services at Trinity this year. We will have it at 7am AND 8am on the front lawn of Trinity, like we did for the outdoor worship this summer. The sunrise service will be a cappella and we ask you bring your communion elements, a chair and wear a mask and physical distance. Please sign up here. Some people who signed up for the 7am have switched to 8am so you can choose which service you attend. Please see your enews for the bulletin or click here.
Easter Recorded Worship
As planning for Easter begins weeks in advance when restrictions were still in place, we are also excited to share a wonderful recorded Easter worship featuring brass, hand bells, choir, and more. Please click here for the video and more.
Stations of the Cross Walk Through
We have been studying the stations of the cross throughout Lent in the sermons and devotions and now we invite you to walk it.
What is it? Each station of the 15 stations of the cross will feature a feast for the senses with crosses and tapestries from around the world and artwork by inspired Trinity members, in addition to the coloring pages from the devotional.
Virtual:
The photos, art, crosses, and scriptures are here! We are excited to share it with you virtually. Please enjoy this virtual walk through online: It will play automatically or you can advance the slides by clicking on the screen.
Devotions in Lent
We are offering two activities each week of Lent. On Sundays, we will offer the Forty Day Foodies weekly challenge and a related Zoom Bible Study. On Wednesdays, we will share a meditative coloring page and reflection on two or three stations of the cross to prepare for the coming Sunday worship. We hope having these two activities each week will create a rhythm for your Lenten experience.
Forty Day Foodies: A Lenten Experience
Forty Day Foodies is a Christian education & nurture experience during this season of Lent at Trinity. You are encouraged to set aside just one night per week with your family to focus on your food, and join Trinity in a food justice mindset throughout Lent. At the beginning of each week, you'll receive the theme, meal challenge instructions, and conversation questions via the enews (see below).
Learn more here in this video from Stuart.
There are several ways to participate:
Share one Intentional Dinner with your household each week. This can be done on whatever night works for your family, but Intentional Dinner means everyone is there and present, and it begins by saying grace. You'll also get a simple dinner-related challenge each week, along with conversation starters that invite family members of all ages to discuss why food matters to our faith.

Join other households for pandemic-safe fellowship with two virtual dinner gatherings during Lent. Lean into the initial discomfort of sharing a meal on camera, and celebrate how food brings people together. Email youth@trinityarlington.org if you'd be willing to host a video meeting for 3 or 4 families, and Stuart will talk you through how it'll work.

Join a weekly Bible study that covers just a taste of how food is used in scripture. This will be over Zoom on Sundays, 12-1 p.m., starting 2/21 (see below for more information.)
Lenten Bible Study: Food and Faith
Sundays at noon, 2/21-3/28
Everyone has a "food story"–a flavorful narrative that shows the personal relationship you have to food. During Lent, we'll sample a charcuterie of biblical food stories and ponder different ways that eating can be an act of faith. Adults and youth are welcome to join this no-homework weekly Bible study on Zoom, with the potential to meet in person later on when the weather permits. Email Stuart or check your enews for the link. (note: no meeting on March 14th.)
Week One Dinner Challenge: Make something that every member of your household helps prepare.
Conversation Starters:
What makes something food? Work together to come up with a criteria–be as specific as you can!

Describe your favorite food/meal without saying what it is.

Share a memory or tell a story about your favorite food/meal

.
Week Two Dinner Challenge:
Make something with ingredients that represent 4 of the 7 colors of the rainbow (Bonus challenge: include as many colors as you can.) Conversation Starters:
What are some things your family always gets at the grocery store?

What are some things your family always has at home?

Are you a picky eater? What are some foods you just have zero appreciation for?
Week Three Dinner Challenge
Challenge: Make something for dinner without using any gas/electric appliances. It's okay if it came out of the fridge, but after that all preparations must be done with your hands and non-powered utensils.
What rules does your family have about food and/or meals (e.g. no cookies for breakfast; no phones at the table). Why do you follow them?

What's your family's stance on fast food?

What is your favorite item on a fast food menu?
Make something for dinner that is entirely vegetarian (no meat). Bonus challenge: Make something that is entirely vegan (no animal products).
Name as many animals as you can that give us food (not just meat). Turn this into a game by taking turns giving a quick answer, with elimination if it takes someone longer than two seconds to think of one.

Eating animal meat has always been a part of human history, but some people, and even whole cultures, have been abstaining from animal products for almost as long.

What are some of the issues or concerns with using animals for food? Which ones carry the most weight for you?
Forty Day Foodies Week Five
Make something for dinner that costs less than $2 multiplied by the number of people in your household (eg. a household of 4 should spend under $8). Bonus challenge: Don't use anything that you already had on hand outside of your budget.
What makes up a nutritious diet?

How much money does your family spend on groceries (per week or month)?

Besides simply not having enough money to afford groceries, what reasons could someone have for not getting a nutritious diet?
Forty Day Foodies Week Six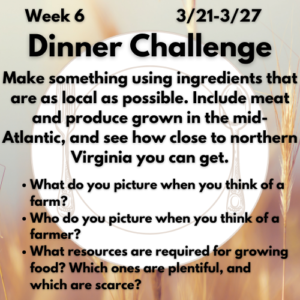 Challenge: Make something using ingredients that are as local as possible. Include meat and produce grown in the mid-Atlantic, and see how close to Northern Virginia you can get.
What do you picture when you think of a farm?

Who do you picture when you think of a farmer?

What resources are required for growing food?

Which ones are plentiful, and which are scarce?
Challenge: Bake homemade bread together! Includes but not limited to sandwich bread, pizza dough, dinner rolls, toast, etc.
What does 'daily bread' mean to you?

Why do you think Jesus chose bread to represent his body?

Which dinner challenge was the most difficult?

Which topic related to food was most interesting/would you want to learn more about?
Lent Devotional: Stations of the Cross
Throughout the season of Lent we will be preparing for a Good Friday experience, walking the stations of the cross at Trinity. Each Wednesday during Lent the e-news will feature two stations cross to focus on for that week. We will provide coloring pages, a more intricate one for adults and a simpler on for children. The coloring pages come with a meditation/devotional that is appropriate for adults and also a shorter one that is appropriate for children. We hope you will find these reflections helpful in getting you thinking and talking about the cross and what it means for us. If you would like to scan your coloring pages and send them in to the church office, we will use them on Good Friday as part of our stations of the cross walk-through experience. You can come on Good Friday and see your artwork and the artwork of others on display at the different stations.
Click for the entire:
Simplified Coloring Page
Detailed Coloring Page" "="" trinityarlington.org="" wp-content="" uploads="" 2021="" 03="" detailed-station-15.pdf"""="" target="""_blank""" rel="""noopener noopener noreferrer" noopener="" data-link-type="""web""">Detailed Coloring Page" "="" trinityarlington.org="" wp-content="" uploads="" 2021="" 03="" detailed-station-15.pdf"""="" target="""_blank""" rel="""noopener noopener noreferrer" noopener="" data-link-type="""web""">Detailed Coloring Page" "="" trinityarlington.org="" wp-content="" uploads="" 2021="" 03="" detailed-station-15.pdf"""="" target="""_blank""" rel="""noopener noopener noreferrer" noopener="" data-link-type="""web""">Detailed Coloring Page">
Detailed Coloring Page
Devotion 15" "="" trinityarlington.org="" wp-content="" uploads="" 2021="" 03="" devotion-15.pdf"""="" target="""_blank""" rel="""noopener noopener noreferrer" noopener="" data-link-type="""web""">Devotion 15" "="" trinityarlington.org="" wp-content="" uploads="" 2021="" 03="" devotion-15.pdf"""="" target="""_blank""" rel="""noopener noopener noreferrer" noopener="" data-link-type="""web""">Devotion 15" "="" trinityarlington.org="" wp-content="" uploads="" 2021="" 03="" devotion-15.pdf"""="" target="""_blank""" rel="""noopener noopener noreferrer" noopener="" data-link-type="""web""">Devotion 15">
Devotion 15
">
Station 15: Rebirth
Simplified Coloring Page" trinityarlington.org="" wp-content="" uploads="" 2021="" 03="" 15-simplified-coloring.pdf""="" target=""_blank"" rel=""noopener noopener noreferrer" data-link-type=""web"">Simplified Coloring Page" trinityarlington.org="" wp-content="" uploads="" 2021="" 03="" 15-simplified-coloring.pdf""="" target=""_blank"" rel=""noopener noopener noreferrer" data-link-type=""web"">Simplified Coloring Page" trinityarlington.org="" wp-content="" uploads="" 2021="" 03="" 15-simplified-coloring.pdf""="" target=""_blank"" rel=""noopener noopener noreferrer" data-link-type=""web"">Simplified Coloring Page">
Simplified Coloring Page
Detailed Coloring Page" trinityarlington.org="" wp-content="" uploads="" 2021="" 03="" detailed-station-15.pdf""="" target=""_blank"" rel=""noopener noopener noreferrer" data-link-type=""web"">Detailed Coloring Page" trinityarlington.org="" wp-content="" uploads="" 2021="" 03="" detailed-station-15.pdf""="" target=""_blank"" rel=""noopener noopener noreferrer" data-link-type=""web"">Detailed Coloring Page" trinityarlington.org="" wp-content="" uploads="" 2021="" 03="" detailed-station-15.pdf""="" target=""_blank"" rel=""noopener noopener noreferrer" data-link-type=""web"">Detailed Coloring Page">
Detailed Coloring Page
Devotion 15" trinityarlington.org="" wp-content="" uploads="" 2021="" 03="" devotion-15.pdf""="" target=""_blank"" rel=""noopener noopener noreferrer" data-link-type=""web"">Devotion 15" trinityarlington.org="" wp-content="" uploads="" 2021="" 03="" devotion-15.pdf""="" target=""_blank"" rel=""noopener noopener noreferrer" data-link-type=""web"">Devotion 15" trinityarlington.org="" wp-content="" uploads="" 2021="" 03="" devotion-15.pdf""="" target=""_blank"" rel=""noopener noopener noreferrer" data-link-type=""web"">Devotion 15">
Devotion 15